Products that solve your problems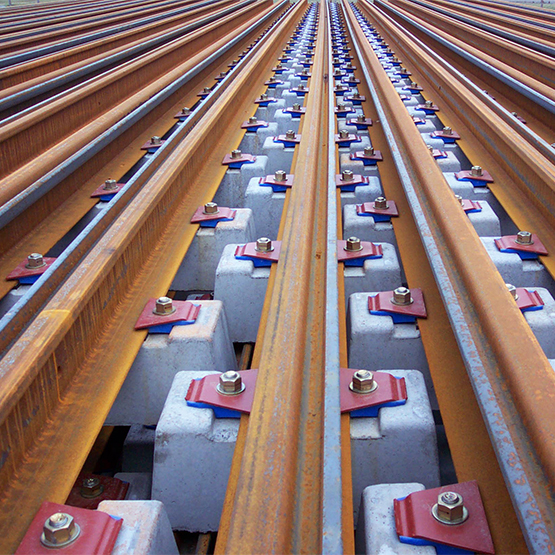 NABLA tram
Combining ease of application and high performance, NABLA Tram is compatible with various track-laying methods including top-down and bottom-up. The NABLA TRAM baseplate is designed for effective insertion into a dry mix of fresh concrete, enabled by the PANDROL air evacuation system of blow holes and channels. Fastening system components are protected by a plastic cover designed to avoid concrete contamination, improve electrical resistance and provide high mechanical and thermal resistance that allows passage of road traffic.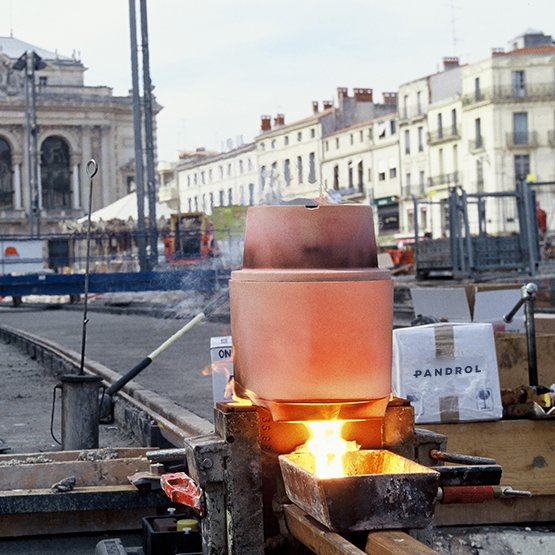 Grooved Rail Welding Process
With over a century of experience in Aluminothermic welding, Pandrol has developed a whole range of processes to support the welding of the majority of existing global rail profiles, including Vignoles rails, grooved rails, crane rails, metro rails, existing on the world market. Our welding process has responded to the changes in rolling stock, rail grades and standards, and is constantly growing to fulfil the requirements of networks. Each process has been developed with its own technical characteristics to be adapted to the different configurations of the track.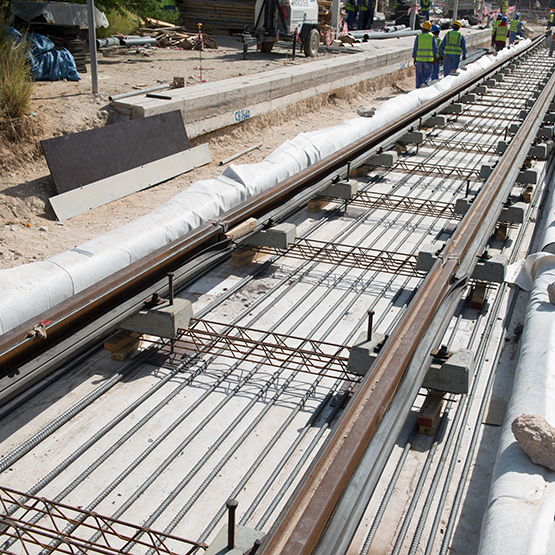 Floating Slab Mats (FSM)
A high performing vibration attenuation system based on the mass-spring principle, where the concrete slab (the mass) is elastically supported by a continuous resilient mat (the spring). Pandrol FSM are made of high quality resin-bonded rubbers. The elastic properties of the mat solution are defined by track and train design, chosen material type, defined thickness and number of layers and determined shape factor. Depending on these design parameters, the PANDROL FSM solutions can achieve a vibration attenuation up to 25 dBv with a low resonance frequency.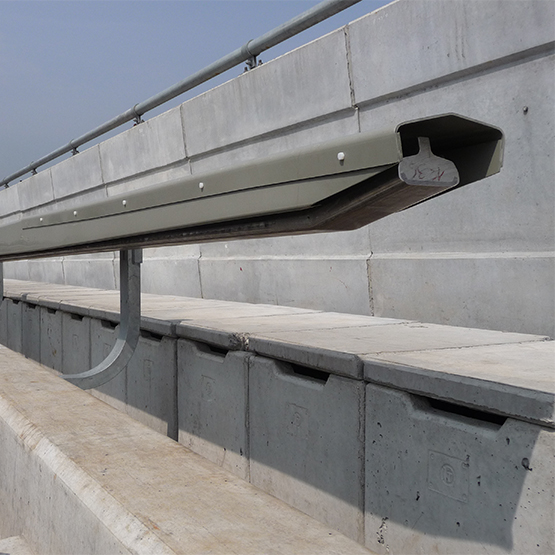 Third Rail Solutions
In joint venture with Constellium Group, we can design and supply complete solutions of composite conductor rail systems (Aluminium/Stainless steel conductor rail) for all metro applications. Our conductor rail is made by coextrusion technology. Our solution can be adapted for use on all track types, and delivers high levels of reliability and safety, with no delamination and no need to control thickness of stainless steel.
A world of knowledge
Paris Tram T3b
Tramway line T3 is the first modern tramway in Paris, since the closure of the previous system in 1937. The line runs in its own section of the roadway of connecting Pont de Garigliano and Porte d'Ivry in an average of 26 minutes. It carried 25 million passengers in its first year of operation.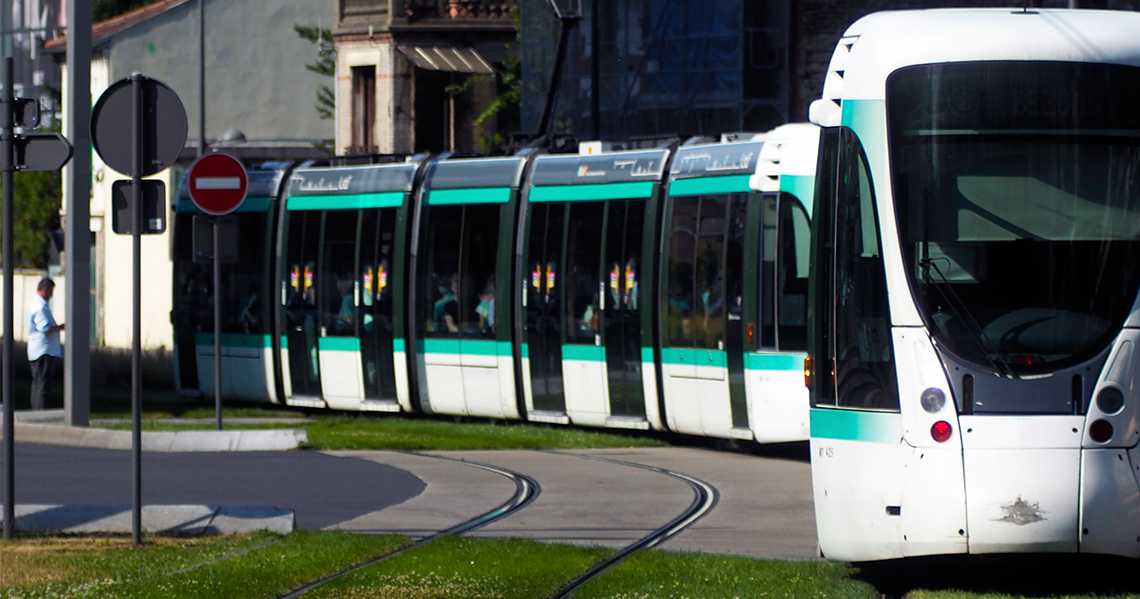 Pandrol delivered 14'000 Nabla-Tram base-plates in 2016/2017 to our customer Colas Rail as part of the western extension of the Paris tram line T3b, between "Porte de la Chapelle" and "Porte d'Asnières". This extension is of approx. 4.3 km long, including 8 new stations covering both 18th and 17th districts ("arrondissements") of Paris. Commercial operations are expected to start in November 2018.
Brussels Tram
The Brussels Public Transport Company (MIVB/STIB) manages a tramway network covering more than 300 km of single track. Every year, a part of the network is upgraded. For this track-upgrading program in downtown Brussels, particular attention was given to vibration control and in August 2005, Pandrol was asked to supply the materials and the technical assistance for the installation of a Floating Slab track (FST) in the "Rue du Bailli", near the centre of Brussels.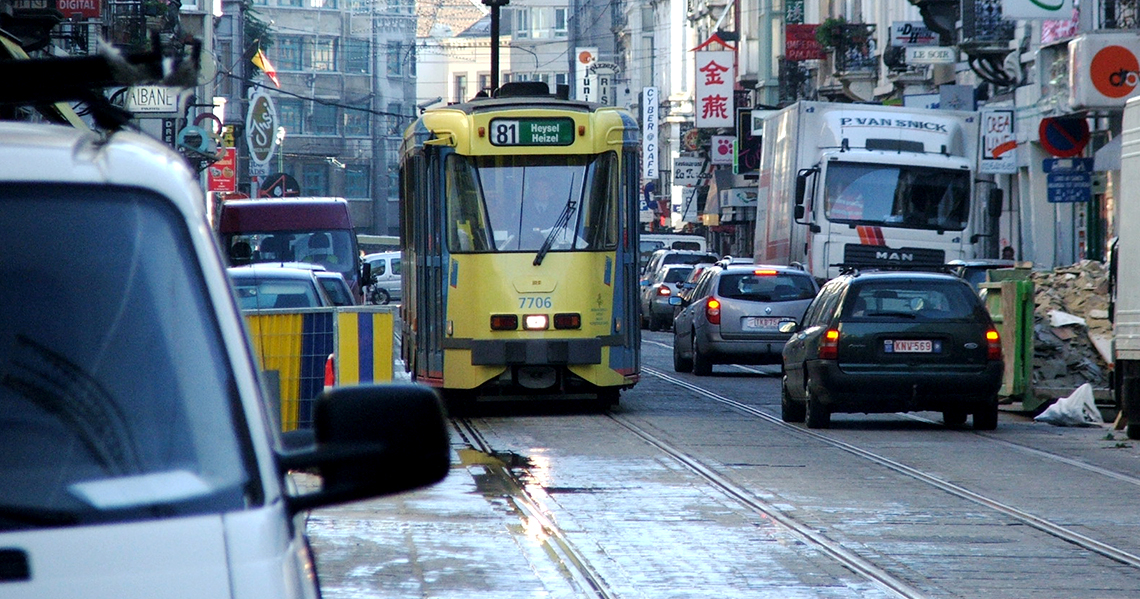 This route included 380 metres of double tramway track. The supplied Pandrol materials consisted of a horizontal as well as a vertical elastic mat, and a special design with adapted transition stiffness on the Floating Slab Track perimeter. After installation of the floating slab track, MIVB/STIB had vibration measurements performed by a specialised company. These measurements showed excellent performance of the FS, resulting in more than 20 dBV reduction at 63 Hz.